NX-Series Programmable Servos and Accessories
XBus Programmable Servos from the leaders in Servo Performance
JR's new NX Series Servos take JR servo performance and adjustability to new levels. Featuring "Automatic Output Detection", these new smart servos can be used with either conventional (PWM) or XBus installations for ease and flexibility. Programming is simple via your XBus equipped JR XG-series DMSS transmitter, and not only can servo direction and travel be adjusted, but it is now possible to fine tune servo gain, dead band and boost to suit your specific aircraft and desired response. This precise setup allows servo hunting to be eliminated and precise feel and maximized performance to be obtained.
Since the introduction of XBus in the summer of 2012, modelers all over the world have forever changed the way that they setup their model airplanes and helicopters by taking advantage of the simple, yet powerful programming options and advantages only XBus can offer. The nature of the design of XBus is simple with powerful open architecture, allowing retrofit into existing models easily as well as the ability to use a wide range of existing servos on the market. Until today, however, modelers could not experience the limitless benifits of XBus; using servos that do not require PWM conversion harnesses.
Try a set of NX servos for your next project. With a wide range of servos already available, and pricing comparable to current JR Servos, the new JR NX Series Servos are sure to be the perfect choice for your next model
In Stock Now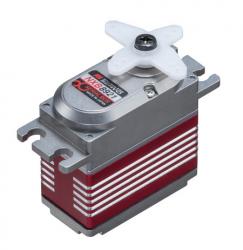 Part Number: JRPSNXB8921+
Retail: $299.99
MAP: $219.99
Part Number: JRPSNXB8925
Retail: $299.99
MAP: $219.99
XBus NX Servo Adapters
For high-current installations with any of our heavy-duty center hubs, such as the XB1-CHB and XB2-CHB, the NX-series servos will require a harness to adapt the heavy-duty 14AWG power leads down to the normal 20AWG wire for the servos to use. Available in dual and quad output configurations in two dierent lengths, these harnesses make NX servo integration into your model that much easier.
No matching products found