Important JR Americas Service Center Update
JR Americas Service Center Relocation to Boscawen, New Hampshire
The JR Americas Service Repair Center will be relocating to Boscawen, New Hampshire.
JR Americas will continue to receive all JR repairs at our Champaign, IL facility until August 3rd. The JR Americas Service Center will be closed for relocation from August 15th until the re-opening in New Hampshire on September 4th. Repairs sent to us during the relocation time will experience longer than normal turnaround times. After August 3rd, JR repairs will need to be sent to either our New Hampshire or Champaign, IL facilities based on the type of repair required.
For All Standard JR Repairs, Non-DSM RF Related
JR Americas Service Center, Boscawen, New Hampshire All standard JR service repairs (switches, cases, CPU issues, DMSS products/issues) ALL DSM related repairs and upgrades ONLY should still be sent to our Champaign Illinois main office.
For all DSMX Upgrades, or DSM/DSM2/DSMX RF Related Repairs
JR Americas, Champaign, Illinois
All DSM related RF repairs and DSMX upgrades ONLY should be sent to our Champaign, Illinois facility. If your transmitter has binding, range, or other RF related issue, it should be sent to this facility. However, if your transmitter is DSM equipped (9503, 12X, etc.) but requires other repairs (switch replacement, case issues, CPU issues) this type of repair should be sent to our New Hampshire location.
Not sure where you should send your JR Repair?
If you are unsure as to which Service Facility you should send your JR repair, please e mail us at service@jramericas.com with information on the specific repair needed, and we can advise you as to the proper center before making your shipment to us. Prior to sending in your return, please print and complete the JR Americas Service Repair Request form: http://www.jramericas.com/pdf/jr_americas_repair_service_form.pdf
JR Americas Service Center (Standard JR Repairs)
179 North Main Street Boscawen
New Hampshire 03303
e-mail:service@jramericas.com
JR Americas (DSM Specific Repairs)
PO Box 8757
Champaign, IL 61826
e-mail:
support@jramericas.com
07/26/18
Notice of Discontinuation of JR Production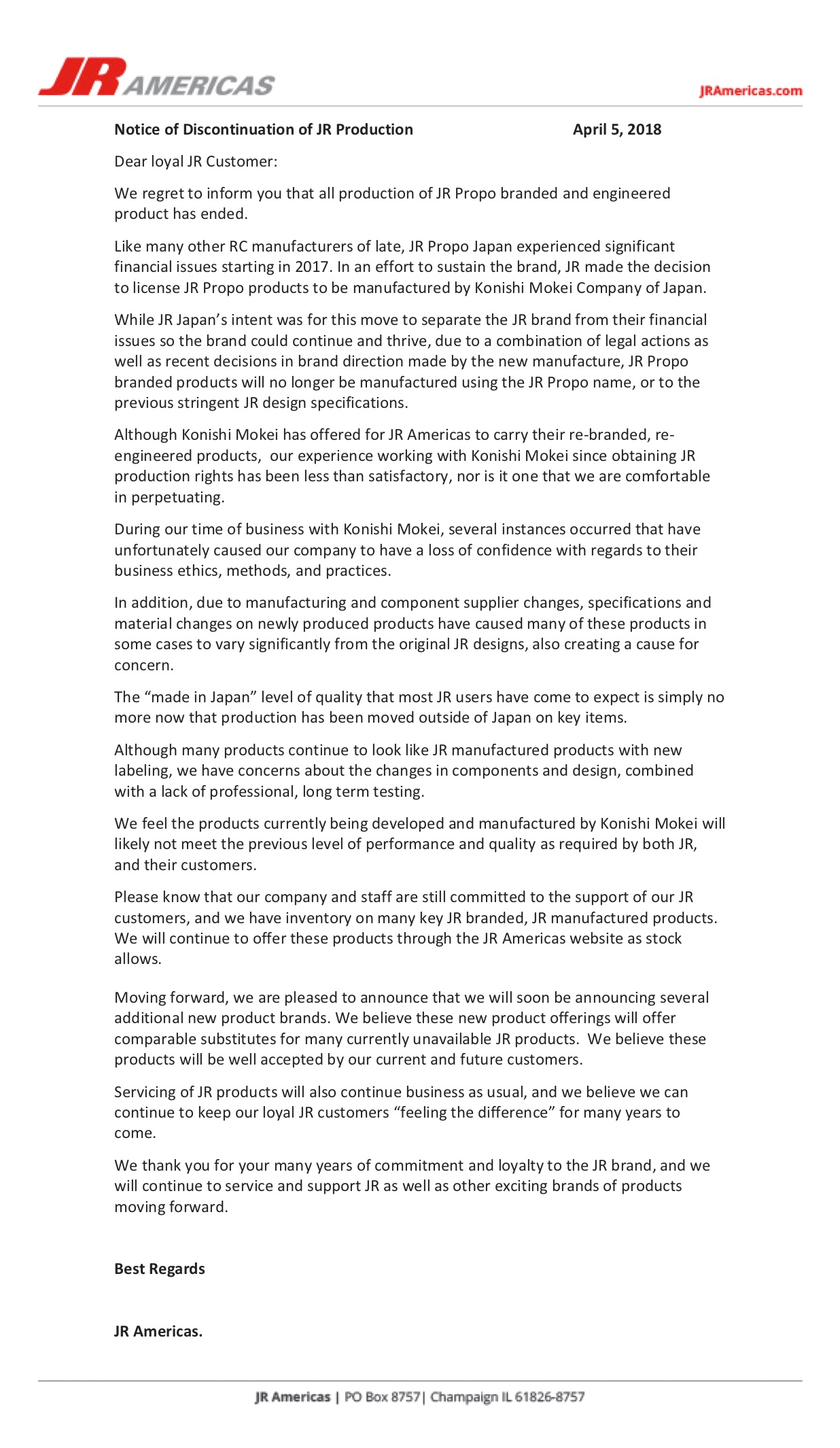 04/05/18
25% off all instock Pulse Batteries!
With all the goodies under your tree this year, you are going to need some batteries. How does 25% off all in-stock Pulse batteries sound? Get them while you can, because this deal will not last long!
12/20/17
10% off SebArt kits and parts
If it is SebArt, and it is in stock, then it is on sale. Take 10% all SebArt parts and kits for a limited time only. Must use coupon code "sebartholiday10" at checkout.
12/20/17
New JR XG11 Special Edition Radio
Introducing the new JR DMSS XG11 Special Edition. Available in an assortment of colors, each radio is custom made, and comes complete with the CNC machined premium gimbals previously only found on the XG14. As each radio is special ordered, please allow 6-8 weeks for delivery.
12/05/17
Colt Retro Radio Systems now only $499.99!
Now you can own a cool JR COLT Retro Radio system complete with receiver for only $499.99 MAP! Please visit http://www.jramericas.com/COLT/ to order!
07/31/17
NEW JR DMSS JetCat Telemetry Modules in stock!
JR Americas has just received our first shipment of the ElectroSpeed brand JetCat Telemetry Modules specifically for JR DMSS Systems. Please visit this page for more information: http://www.jramericas.com/236252/JRPELE006/
07/27/17